Good News - We have Puppies! Some are here and others will be arriving early 2023.
Available are Micro mini, mini, medium and standard.

Paisley has f1b puppies due April 17th. She was bred to Brixton. The puppies should be in the 35-45 lb range.

Aria will be bred in March for F1b puppies born early June. Tri color Merle, traditional tri color, tri color chocolate and tri color chocolate parti/ tri color black & white parti. 35-45 lb range

Scarlett will have F1b standard size in early spring. Traditional tri color and chocolate tri color.


Fendi has F1b puppies coming early 2023. Tri color and phantom expected.


Piper and Roxy have upcoming F1b micro mini puppies that will be traditional tri color. 20-25 lbs.

Aspen has F1 puppies coming early summer. Traditional tri color

Spring, Summer, Fall and Winter babies. Our waitlists fill up ahead of time but deposits are spread out over different litters and timeframes. Check with us for availability.
While our girls have regular anticipated cycles they can either be early or late. Once again check with us to inquire about what we have coming in the size and timeframe that meets your needs.
I'm happy to send you photos of previous puppies from the expecting parents you may be interested in.

Call, text or email for more information on upcoming Bernedoodle Puppies. 951 240-9803 or inquire on the contact us page.
renownedcuties@yahoo.com
A Note On Coloring
What will my puppy look like?
We've done our homework so that we are able to produce gorgeous coloring and markings. I've done extensive research on color genetics as well as health genetics. Bernedoodles are a little pricier due to the science involved in producing colors correctly.

Our parent dogs are not only health tested but are color and coat type tested.. Phenotype is the physically expressed color of the dog. Genotype is the color genes they carry and can produce.

While some of our Mamas are black and white (phenotype) they carry genes for producing Tri-color. (genotype).



Will he look like Uncle Harry?
Lately, we've had quite a few people trying to imagine the facial features of upcoming puppies by trying to imagine a cross between the facial coloring of each parent. It doesn't work that way. Each puppy will be marked differently and none will be a carbon copy of Mom or Dad. That's where the Uncle Harry joke comes in. When human babies are born and we look at their facial features, it's easily apparent that little Johnny looks just like Mom or Dad or even Uncle Harry. It's understandable that someone would transfer that logic onto a puppy. Just know that we pair our parents based on color genetics with the goal of the look that everyone wants. Scarlett for example does not have a white blaze on her face. Will she produce puppies with a white blaze? Yes, she will!!
There's those words Genotype and phenotype again!
Our Mommies and Daddies are not brown (I like to use the word Chocolate, it sounds yummier) but they do produce chocolate. Their Phenotype is traditional Tri-color or black and white but within their genotype they carry chocolate. The brown gene is little b. Each of our parents carries one b brown and one B Black. The puppies that inherit two little b's will be yummy chocolate. The puppies that inherit Bb will be blacked-based. The majority of the litter is black based as in traditional Tri-color. Later in 2022, we'll have a few red/white. That's going to be fun!
Pink noses?
Another question I get asked is about a newborns pink nose. Their noses fill in black very quickly (brown on a chocolate). As their nose color is filling in they will have spotty pink with their black or brown nose. Usually by the time you take your puppy home this process is complete and you have a solid black or brown nose. A black based Bernedoodle will not and should not have a brown nose.
Flashy babies!
Many people are not aware that Bernedoodles come in parti patterns or Merle. Those are some flashy eye catching dogs! We of course have traditional Tri color but also get fun flashy colors for those that think outside of the box. Most of our litters will be all Tri color including the parti or merle pups. Most of our puppies are traditional Tri color. Our Chocolate Tri color are in high demand. I wish that we got more than a couple in each litter.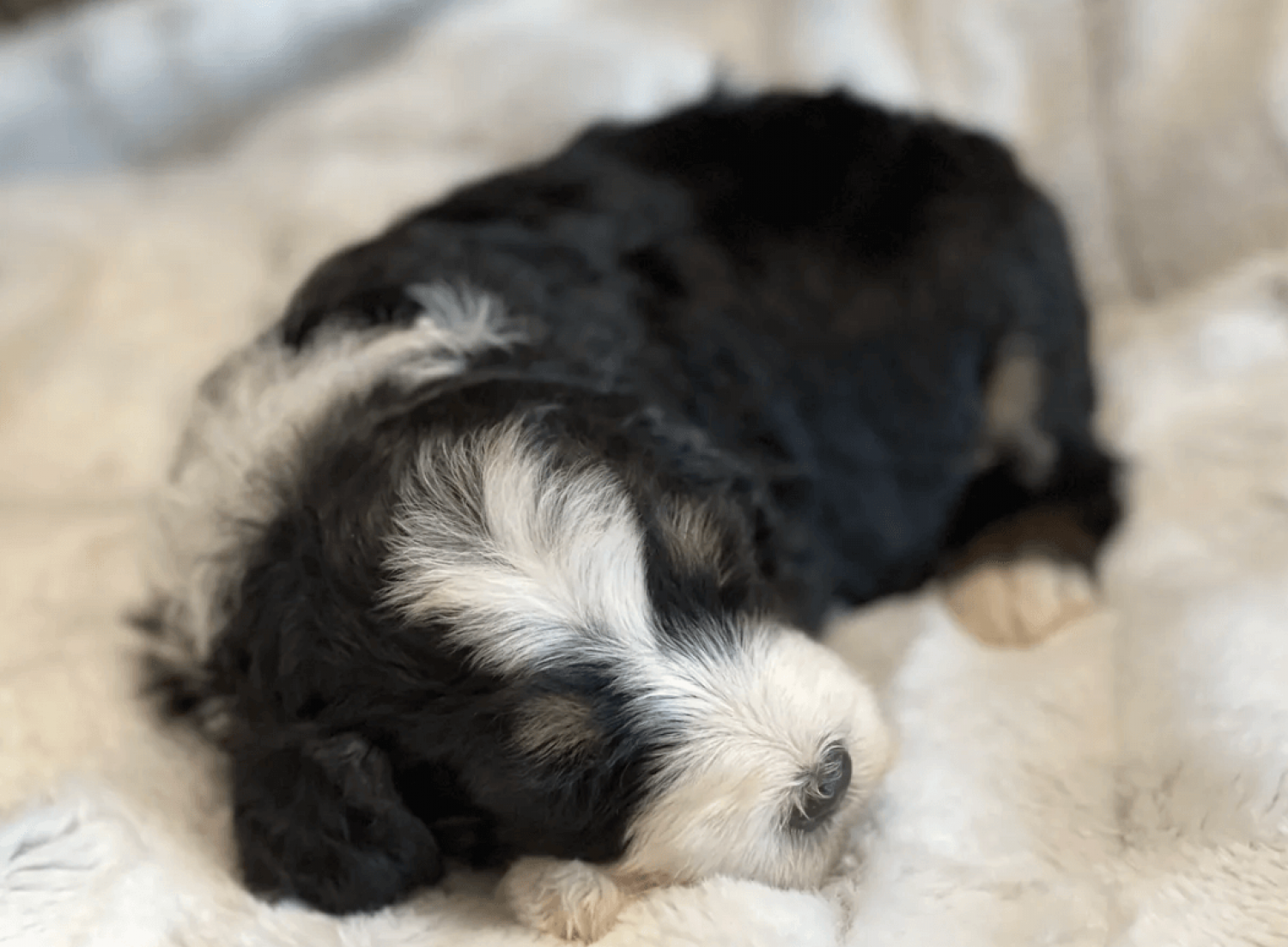 Current And Planned Litters
Available puppies!
We have puppies!
We'll have puppies throughout 2023! Contact us for current Bernedoodle litter plans.

We will have mini and medium and standard size Bernedoodle Puppies throughout the year. Traditional Tri Color Bernedoodle Puppies, Tri color chocolate and Tri Color Parti Bernedoodle Puppies, Aria will have gorgeous Merle Bernedoodle Puppies. So gorgeous that we're going to a repeat the litter with the same stud.

Micro Mini Bernedoodle Puppies! Early 2023. Check out our Micro Mini Bernedoodle puppy parents on our parents page.

Bernedoodle puppies are $3500-4500.
Traditional Tri color Bernedoodle Puppies
Tri Color Chocolate Bernedoodle puppies
Tri color chocolate parti
Merle Bernedoodle Puppies
Bernedoodle Puppies Available Or On The Way!
Precious lives on the way! Will we be busy? You can bet on that! We are a retired couple and have all the time in the world to focus on our babies. Each life that we plan to bring in this world will have individual attention and love. That's what we do!! Love on babies!! It is very fulfilling for us to hear all the reports back from our puppy families thanking us for their sweet, content, confident and well adjusted new little companions. Everyone is very happy! That makes us happy!!
OUR GOAL IS HEALTHY HAPPY PUPPIES AND HAPPY PUPPY FAMILIES